Meet Your Dog Trainers
Chris Pelle – Owner
A former US Army 11B, has been training dogs since he was 15 years old, starting with his family's yellow lab. Chris' dog training expertise is protection training, obedience training, confidence building, and dual purpose or single purpose canine training for law enforcement agencies. Chris is a certified K9 Field Training Officer, decoy, K9 handler, and is a Drug Beat Certifying Official for Police K9s. Eros his Czech GSD is certified in narcotics detection and patrol for private security.
Chris is a member of the Association of Professional Dog Trainers & IACP.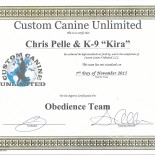 Cody B. – Training Director / Working K9 Trainer
Cody is a Marine veteran who spent multiple deployments overseas as a Tactical Trailing K9 Handler. Cody attended the Tom Rose school for Dog Trainers and is an expert trainer. Cody specializes in tracking training, obedience, aggression rehabilitation, behavior modification, K9 sport work, and police K9 training.
Lauren N. – Pet Trainer
Lauren joined the team in 2021 with ambition to learn all there is about dog training. She is a very talented trainer who excels in obedience, eCollar work and teaching clients how to better work with their dogs!
Jackie G. – Pet Trainer
Jackie joined the team in late 2021 after starting her dog training career with another company. Jackie is full of energy just like her pup Hank. She loves watching dogs transform through training and helping clients better understand their dogs. Jackie excels in obedience and is quickly learning how to deal with aggressive dogs for rehabilitation!
Chelsea H. – HR Manager
Chelsea is our wonderful HR manager. She handles all of our HR needs and keeps the team sane. While also taking care of and training her 3 pups, Sammy (Pitbull), Chimera (Malinois) and Fiona (French Bulldog). Chelsea is also a fitness competitor and personal trainer!
Aija G. – Office Manager
Aija is our lifesaver! She handles all of the scheduling and client relations for us. She is extremely knowledgeable about dog training and helps our clients figure out what the best program for their dogs is. On top of that she is raising her daughter and is a part-time photographer!
Savannah E. – Kennel Master
Savannah has been with us for over 3 years and has worked her way up to the Kennel Master position! Savannah handles all of the kennel care and management ensuring all of the dogs are taken care of with love and care.